Five New Works: since the last 2017 posting; see also Galleries.

Exhibition News

For our East Coast associates:
The
Augusta Savage Gallery
, University of Massachusetts, 103 New Africa House, Amherst, Massachusetts, HOME exhibition will include my entry (brief story + artwork) titled appropriately "Home." Exhibition dates: February 1 to April 30, 2018. Hours vary. See
www.fineartscenter.com/augusta
for details.
And for the more Midwestern types:

My painting, "All Beginnings Have Endings," will be showing in the 23rd Arts in Harmony 2018 Annual International Show / The North Show in Hopkins, Minnesota, opening Thursday, February 15 and running through Friday, March 16, 2018. See www.hopkinsartscenter.com for details.
Meanwhile….
We're forging ahead into the
holiday season
. For me this means much additional work
dealing blackjack
at event parties. Also meanwhile, my partner underwent major surgery.
Recovery
in progress. Grabbing time for studio, marketing, website, Twitter, LinkedIn, Calls to Artists as conditions allow. Oh, and I hope you enjoy whatever holidaying strikes your fancy.
Celebrate
it all! And while at it, maybe consider
gifting
some of my original art to that very special individual. It might accompany some other personal gesture--an invitation to (?), an opportunity just for you and (?).

About Mickey

Micheline "Mickey" Stefanie Ronningen was born a Boomer near Los Angeles, California. She spent much of her formative years being led around by three older sisters while escaping "Huge snapping turtles!" in Des Moines, Iowa, corn fields. Then the family moved to Chicago. Her flatlander status being well established, Mickey made the drastic move to the partially mountainous Pacific Northwest after graduating from the School of the Art Institute of Chicago.
Today Mickey's creative outlets include fine art, writing, editing, book review, performance, and dealing blackjack. Creative pursuits began with refusing to talk until age five (she made up her own language), drawing pictures at the age of four and writing fictional illustrated stories by age nine. Performance work developed at age sixty-five with recurring character work on IFC's "Portlandia." (Mickey plays Carrie Brownstein's mom, seasons 2, 3, and 5.) Several commercial shoots, and one for HBO, have followed.
However, pursuing fine arts was well established in her teen years with a photography course at the School of the Art Institute of Chicago and a summer spent at the Ox-Bow School of Art. After general academic study at the community college and a year working in Europe, Mickey returned to Chicago to win a full-tuition scholarship and earn a Bachelor of Fine Arts degree at SAIC. Late studies focused on filmmaking and environmental design.
Mickey's current passion is to continue developing her artistic 2D vision in the studio and make contact with its audience. Work on marketing and sales is not optional and she says she is still learning. Mickey fully intends to blog more often; see "Just Saying" [above] for any current and past essays.



---
Artist Statement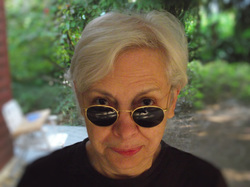 I use abstraction because I find it lends clarity to those murky and otherwise undefinable transient states of being. Abstraction is basic to our thought processes. As an art form, it also can allow viewers freedom from potentially limiting and reality-based associations. My style is necessarily contemporary.

I am intrigued by the invisible (such as feelings and sensory experience) and enjoy the challenge of giving form to things and ideas, translating such essentials into color, shape and composition. All the while I honor those aspects directing one's humanity and life course. Additional elements offer respect for humor and the restorative power of the meditative state.

Currently the materials I use to make such statements include archival paper, canvas, Claybord, pens, ink, colored pencil, watercolor pencil, pigment markers, paint and graphite. Pens offer a fine line element; markers are typically somewhat bolder. Colored and watercolor pencil offer specific textural differences. Ink may allow a wondrous drip. Paint provides solidity. I always begin a composition with graphite. The composition evolves as the statement evolves. Sometimes an artwork's origins demand discovery, sometimes I'm way ahead of the process.

My ideal viewer appreciates color, balance and imbalance, a sense of play, a sense of identity and a sense of mystery. Many of my compositions invite meditative thought. I enjoy encouraging viewers to wander and safely embrace the unknown. Welcome fellow travelers….


---